Oyndarfjørður is a cosy little village on Eysturoy's east coast.
A small river traverses the village.
Down by the sea there is a bridge across the river. Above the bridge there is a little church from 1838 and on the other side is the beach and boathouses that are called 'neyst' in Faeroese.

In Oyndarfjørður there is a camping-site and a youth hostel. It is possible to go fishing or hiking in the mountains in the area.

In addition to the village it self 'Rinkusteinar' are worth a visit.
These are two rocks in the inlet a couple of meters from the beach. They are rocking back and forth all the time. To visualize this a rope is tied on to the rocks and ashore.
Tradition says that the rocks were to Viking-ships on expedition. They had ravaged Fuglafjørður and were on their way to Oyndarfjørður. An old woman cursed the ships and turned them into these forever rocking rocks.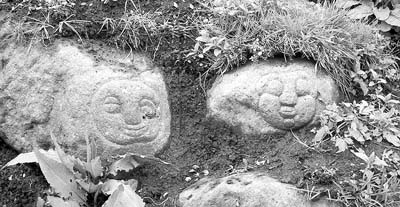 These stones with smiling faces were found in the fields by Oyndarfjørður in the spring of 2004.
Who made them and when they were made was unknown in the beginning.
Later an old lady revealed that they were made by an young artist in the 1980'ties.